EAT TO THE BEAT
The Dirtiest Of Them Dirty Blues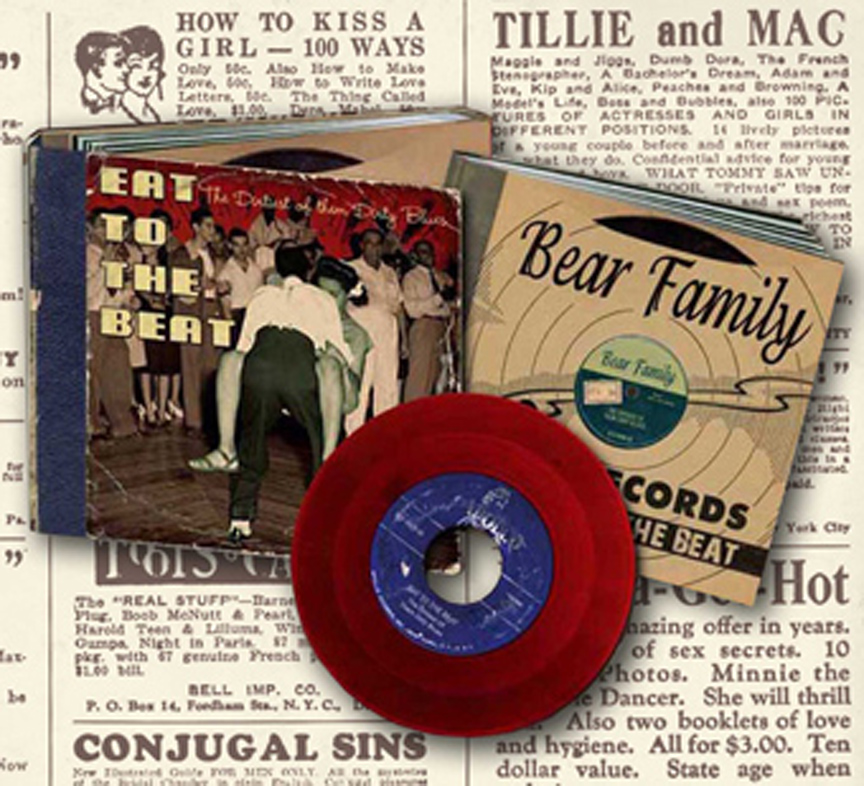 Reviews:
THE LOS ANGELES TIMES
The Bear Family package is much superior to the previous collections, both in number of tunes and in packaging.
NOW DIG THIS
The cover art is distressed to look seedy and the whole thing (steady on) is a labour of (carnal) love. (Pete Bowen)
BLUES & RHYTHM (GB) 11/06
...this copulation - sorry compilation - revisits a favourite subject for themed albums over the years. Being from Bear Family of course it is a beautifully produced and presented set and is as good a single volume as you could wish. (Brian Smith)
ROCKIN' FIFTIES 9/06
Ein Digi-Pack-Schmuckstück der ganz besonderen Art, die Aufmachung ist als Meisterwerk zu bezeichnen. Kaufen und staunen, staunen, staunen! (Bernd Kratochwil)
EVOLVER.at - mobile edition
...Papp-Cover im herrlichen Patina-Look und ein 84seitiges Booklet - so macht man Platten für Sammler.
GLOBAL-MOJO 10/06
...Erstklassig ausgesucht, klanglich erstklassig aufgearbeitet, mit einem vorbildlichen Doku-Booklet ausgestattet.
Echte Qualitätsarbeit vom Deutschen Reissue-Weltmeister Bear Family Records.
ROCK'N'ROLL MUSIKMAGAZIN 5/06
...nicht nur für Akustik-Spanner.(H.-Günther Hartig)
BLUES NEWS 1/07
...und das ist meines Wissens ein absolutes Novum - die kompletten Songtexte. Aufmachung und Sound sind erstklassig. (Klaus Killian)
Some private thoughts
As Richard Weize called, if we could make "Eat To The Beat", I thought I didn't hear right, but it was true: One of my favourite fields in collecting was the subject of my work within seconds. When I got the pics and texts, the next step went right into our 10.000+ -piece record collection on search for fancy artwork corosponding with the tracks. X-rated french magazins from the 30s, shellack-sleeves, labels, nearly everything one can think of! Work started carefully and it was the first production, that made a wish come true: a digipack with the look of one of those famed 78 RPM- albums who were guilty, that a today's CD is still called an album. The Idea was when folding out the CD, you might think of folding out a 60 year old album with 78s stored.The artwork on the label was obligate, as I have a red-viny copy of "Laundromat Blues" in my own stock. The same thought got me, when I started making the booklet: old stained pages, a real book, not only a booklet.
The whole thing wasted a damn lot of time and I think, it is worth every minute I spent on it!