MERCURY
The New Orleans Sessions 1950 & 1953
2 CDs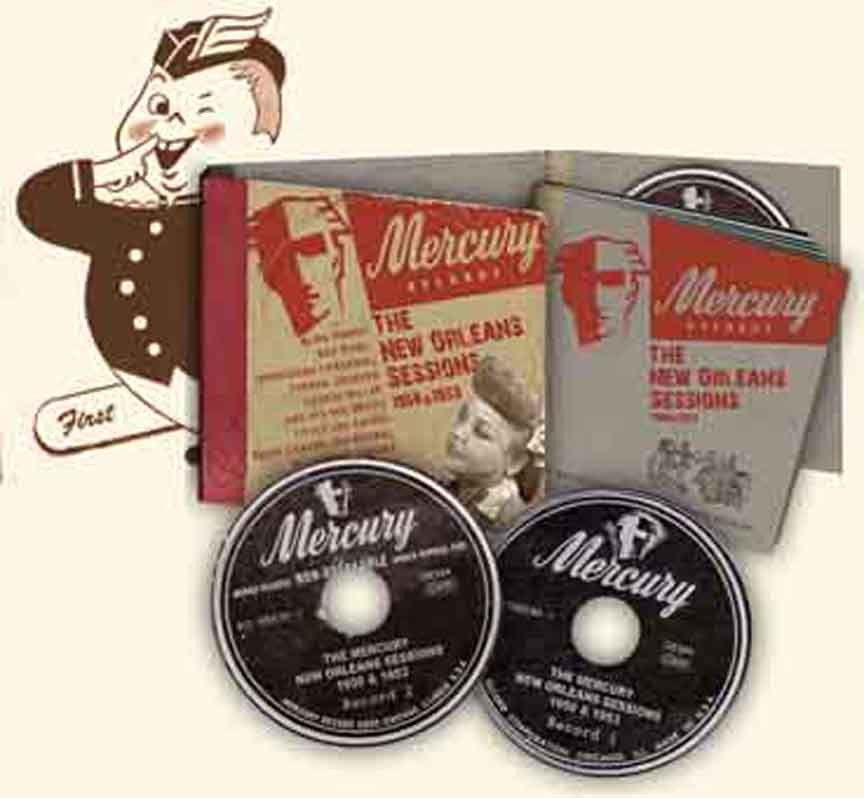 Reviews:
DUSTY GROOVE AMERICA/US
...all beautifully brought together here in a lavishly overstuffed package! ...The 2CD set is almost worth it for the booklet alone - a 70 page treasure trove of notes, photos, and other details on the music. But there's also plenty of great music too...
BLUES AND RHYTHM/UK
... This double CD is presented in a fold out card box, with a 'worn' sleeve meant to give the appearance of those old 78 box sets that were around in the early 50s (not that I ever owned any!). The pull-out booklet slips inside the jacket between the CDs in a thoughtful manner ...
ROOTS AND RHYTHM/US
... a fine set, one of the best releases of the year so far...
MICROGROOVE/JAP
This double CD album, just released in this year, has very funny artwork here - take a look, it looks like a heavily worn-out 78rpm album binder! When I saw this artwork for the first time, I thought this copy is one of substandard products . . .
LOUISIANNA MUSIC FACTORY/US
... a time capsule which is spilling all of its contents for the first time over half a century later....
GOOD TIMES/Ger
Bonus-Punkte für ein Top-Projekt verdient das 72-Seitige atmosphärische Booklet!
JAZZDIMENSIONS/Ger
Vier der ganz seltenen Aufnahmen von Gospeleinspielungen der Silvertone Singers krönen übrigens diese Sammlung, die sich nicht nur mit der Covergestaltung und dem liebevollen Booklet um Authentizität bemüht:
Personal Thoughts
As I love label-compilations as a collector on my own, this production seems to be the real thing!
RnB is the stuff I am always looking for (on shellack), so I had here the oportunity, to use a lot of my own stuff for this 2 CD-compilation. - Again it has the destroyed look of an old album, filled with a "real book", that might look, as survived the last flood of New Orleans (sorry) and the CDs are also "used" 78 records. - A fun for the future customer and the graphical director as well! - On the other hand, I have the two CD.boxes from Mercury itself in my stock (RnB and Boogie and BoP), anyway, I had to compete with these (stunning) packages, no other chance!