THE OUTTAKES - SERIES
Johnny Cash, The Everly Brothers, Janis Martin ...soon:GENE VINCENT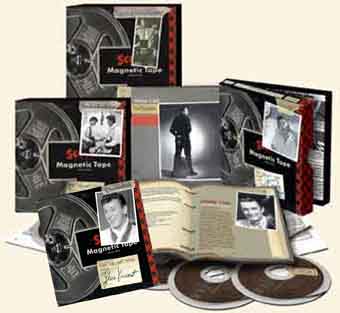 Reviews:
NOW DIG THIS 2/2006
Many Highlights. The package: WOW! (Trevor Cajiao)
VIVA.de/2007
Ein Kaufgrund ist in diesem Falle sicher die außergewöhnlich liebevolle und zugleich informative Aufmachung.
HI FI & RECORDS 2/2006
Wunderbar editierte CD (Michael E. Todd)
ROCKIN' FIFTIES 3/2006
Die neue Serie hat mich schon bei der bloßen Betrachtung der Aufmachung in Verzückung gesetzt. Eine exakte Reproduktion einer alten Tonbandhülle mit handgeschriebenen Notizen und ein wie üblich üppiges Begleitheft lassen diese neue Serie als unverzichtbare, neuerliche Meisterwerke aus dem Bärenhaus erscheinen. Eine klasse Veröffentlichung. (Sven Bergmann)
OLDIE-MARKT 4/2006
Ein toller Rückblick.
ROLLING STONE 6/2006
Eine vorbehaltlos zu empfehlende CD. (4 Sterne) (Franz Schöler)
GOOD TIMES 2/07
Extra-Top: Verpackung in einer nachempfundenen Scotch-Tape-Schachtel!
Personal Thoughts
"Can you do the Everly Brothers" asked Richard one day on the phone. - "Yes" I replied, as I knew the Brothers Twosome from my earliest days, because my daddy was and still is a fan! Even before I went a walkin', I was grown up with the guys from Kentucky. Always bearing my daddy in mind, I started the work, I remembered , when my father flew to London for the legendary Reunion Concert at the Royal Albert Hall et all. I also thought on the moment, when my daddy might hold the box in his hands, he should be proud of me, pick up his Gibson Everly-Brothers-Model and sing the 3rd voice together with them
As the booklet should look more like a real book than a booklet, I looked around at home. - I found a folder, wherein my grandma noted sold records, because my family had a music store. - That fit and is now, together with the old tapebox, a standard for the whole series. - The printer later called me, if the centerhole of the CD should be really "in shape", not round. - Man, that guy might never have seen a real reel-to-reel tape!
Janis Martin was the second stroke in this series and was issued together with the Everlys. In the making: The Gene Vincent Outtakes!